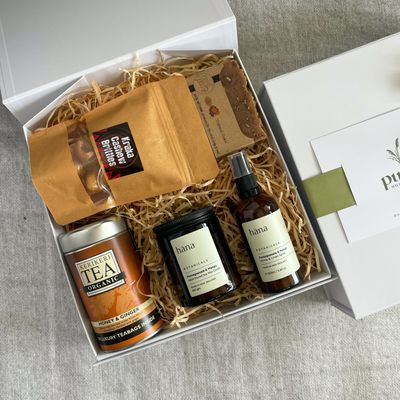 Northland Treats for Her Gift Box
$85.00
or 4 interest free payments of $21.25 with
learn more
This curated Northland Treats for Her Gift Box contains the following artisan products:
Hana Botanicals scented Soy Candle - 150ml
Available in Black Raspberry & Vanilla, Manuka & Wildflower, Pomegranate & Mango with a burn time of approx 20 - 30 hours
Hana Botanicals Linen Spray - 100ml
Available in Fresh Linen and Pomegranate & Mango.
Kerikeri Tea Caddy (20 bags) - Honey & Ginger
Naturally sweet caffeine free South African Honeybush with organic ginger high in antioxidants.
Kraka Cashew Nut Brittle 100gm
Nudi Point Oatmeal Cookie Body Bar
Make no mistake with this one, you DO clean with it, rather than eat it. However, with essential oils of Cinnamon & Clove, Vanilla Extract and Ground Oats - you'd be forgiven for having a little nibble.
Keepsake White Magnetic Sealing Gift Box
Your gift will be nestled into woodwool, plush white tissue sealed with our Native Toi Toi sticker and finally secured with grosgrain ribbon.
Accompanying your gift we will hand write your personalised message, please leave this note at checkout.
Tax included, shipping calculated at checkout
If an item is unavailable, a similar replacement at equal or extra value will be substituted.
SKU: 10007-1