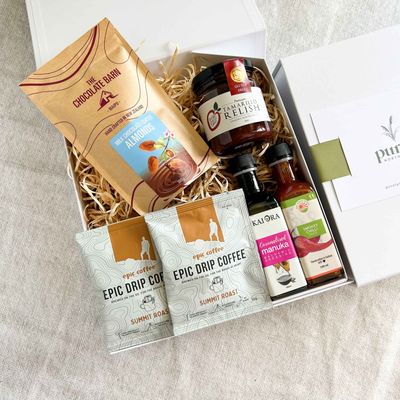 His Northland Gift Box
$69.00
or 4 interest free payments of $17.25 with
learn more
This carefully curated His Northland Gift Box contains the following artisan products:
Gluten Free

The Chocolate Barn - Milk Chocolate coated almonds 100gm
Epic Coffee - Premium drip coffee bags (2)
Kai Ora - Caramelised Manuka, Garlic & Rosemary infused Avocado Oil 100ml
Due North - Smoked Chilli Sauce 100ml
Tamco Tamarillo Relish 220gm
Keepsake White Magnetic Sealing Gift Box
Your gift will be nestled into woodwool, plush white tissue sealed with our Native Toi Toi sticker and finally secured with grosgrain ribbon.
Accompanying your gift we will hand write your personalised message, please leave this note at checkout.
Tax included, shipping calculated at checkout. If an item is unavailable, a similar replacement at equal or extra value will be substituted.
SKU: 10009